Exact Online Scan and Recognize software, powered by TriFact365
Discover the easiest scan and recognize software for Exact Online as well. Process all your invoices and receipts in no time. Did you know that TriFact365 has the most 5 star ratings out of all 800 Exact Online App Center links?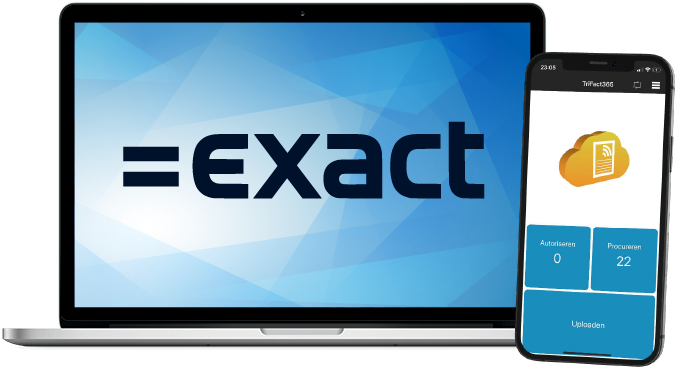 Smart expansion
Our platform offers companies, non-profit organizations and accountants smart features and extensions for Exact Online.
Innovate faster
Take advantage of the latest technologies, such as real-time rule recognition. With smart innovation, you save extra time.
Go live fast
Discover Europe's easiest Scan and Recognize within minutes. Save time and money today.
Official Exact Online Partner
Official partner for Exact Business Software means that the link with TriFact365 is certified. As a partner of Exact Online, TriFact365 is located in the Exact App Center and we are allowed to interface with all over 500,000 administrations. Our Scan & Recognition integration with Exact Online is in-depth and automates your administration(s) within minutes saving you time & money.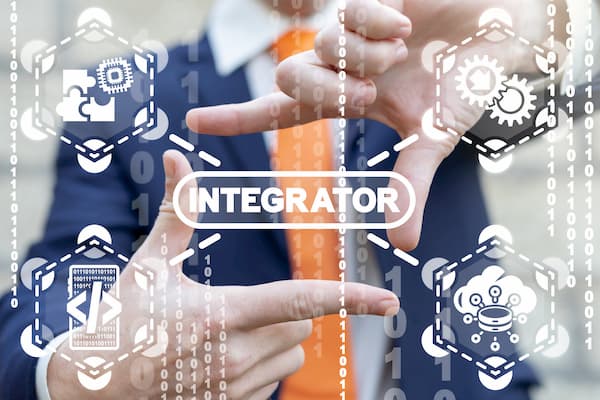 "For our customers, we embrace new technologies to make financial processes run even smoother. Besides the 100% invoice recognition, TriFact365 also offers us an excellent customer service. My colleagues' questions and wishes are answered quickly and pleasantly."
Dirk Krol, Krol Wezenberg Accountants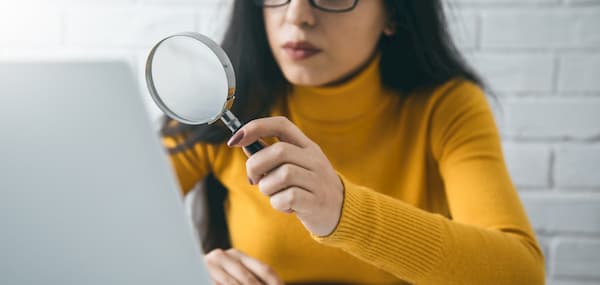 Bookkeeping more efficient with Scan and Recognize for Exact Online
TriFact365 delivers a universal Scan and Recognize solution for all top 10 accounting packages, including Exact. Every day, high volumes of purchase invoices, sales invoices, receipts and declarations are delivered worldwide, automatically recognized and prepared as an automatic journal entry for Exact Online.
Email
Web portal
iOS/Android app
Let your users approve invoices
Discover our workflows for approving invoices in Exact Online. This will complete your step towards digital invoice processing.
Also leverage push notifications that signal your users to review documents. The TriFact365 invoice processing workflows speed up work processes and promote the quality of your financial file.
Give all users the free receipts app
Also use the power of our free receipts app. Add free users from within and outside your own organization. Also make use of the optional authorization, all workflows can be set up completely independently within a few minutes.
Step 1. Take a photo
Submitting claims is easy with TriFact365 App. You scan a receipt with your smartphone and optionally add a description, after which an automatic workflow starts.
Step 2. Approve (optional)
As a manager or budget holder you authorize claims easily with the TriFact365 app or via the TriFact365 web portal. Convenient notifications give you a signal when it is time to take action.
Step 3. Automatic journal entry
In just a few moments all authorized expense claims are ready to be posted to Exact. The payment of the declarations can easily be transferred to the linked bank accounts via the payment batch in Exact.
Easy integration of Scan & Recognition with Exact Online
It doesn't matter if you work with Exact Bookkeeping or Exact Accountancy. The TriFact365 integration is done independently and within minutes. The integration is powerful and works both ways in real-time because it uses the Exact Rest API.
When you open TriFact365 for the first time an intuitive tutorial will start immediately which will guide you through the integration process. Can't manage on your own? No problem, TriFact365 offers all Exact Online users free support including the installation of the interface.
Data exchange with Exact Online
Financial bookings
General ledger accounts and journals
Cost centers and carriers
Relationship management
Foreign currencies and exchange rates
Credit Management
Cash flow
Accounts Payable
Administration and document management
"I really like the fact that when bookings need to be made on a new creditor or debtor, TriFact365 presents a proposal. This saves me a lot of time as I don't have to fill in all the creditor/debtor data manually".
Marion Mulkens, Spijker Accountancy
Benefits for Exact Online users
TriFact365 offers a submission portal for all business documents with free upload users. You can add users from inside and outside your own organization. This means you can make appointments with suppliers, customers or for example your accountant to deliver documents and possibly view them. Smart functionality for Exact Online that maximizes time savings, that's what TriFact365 is all about. TriFact365 also saves a lot of time (and money) with the smart Workflows for authorizing and procuring invoices or other documents. Blocking or unblocking for payment, no problem either. From Corporate to ZZP'er you will save time with the Workflows of TriFact365. Furthermore you will save a lot of time with the self-learning automatic booking proposals of TriFact365, for which we obtain the highest user rating in the Netherlands for all top 10 accounting packages. No Hands Accounting is our specialty! Accounting firms can use TriFact365 to quickly and accurately book invoices. In short, all labor intensive processes around your invoice processing can be automated with TriFact365. Benefit from TriFact365 as a funnel for your accounting package and save time and money!
Would you like more information about the benefits for Exact Online? I am happy to talk to you.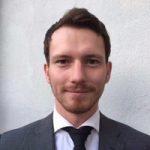 Rick Spek, Sales Consultant TriFact365
Delivery portal
Scan and Recognize with realtime rule recognition
For invoices, receipts and claims
Approve invoices with authorization/procuration
Free app
Free users
Enter invoices with 1 click in your administration
More info about the integration between TriFact365 and Exact Online?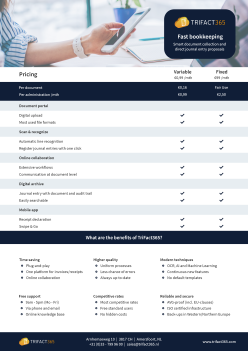 How does Scan & Recognize for Exact work?
First of all, you collect all accounting documents using the TriFact365 delivery portal. You have 3 options to do this via portal (1), email (2) and/or mobile app (3). Then our web application starts working for you with smart OCR (optical character recognition) and self-learning algorithms, after which a booking proposal follows within seconds.
With 1 click you can create new relationships. Changing relations is also easy in TriFact365 as all changes are immediately available in Exact.
Invoices are easily blocked for payment. After approval in TriFact365 invoices are immediately released in Exact.
Invoices can be spread over different periods with the 'Transaction booking' option.
Of course TriFact365 also processes international invoices so you can book faster in foreign currencies.
Expand your business internationally with Scan and Recognize for Exact Online
TriFact365 is available in English, German, French and Spanish. These languages are a perfect match for the countries where Exact business software is available. Quite a few subsidiaries of our customers are already working with TriFact365. If your organization also has branches abroad they will work exactly the same way as you are used to with us in the Netherlands.
Highly appreciated by Exact Online users
Did you know that TriFact365 has the most 5 star references for Exact and all other top 10 accounting packages in the Netherlands? Also when you look in the Exact Online App Center you'll see that TriFact365 receives the best reviews. Just go into the Exact Online App Center and select the "best rated" option – and then check out the 5 star references.

Steven Sharifi, Exact Online app center, 5-12-2020
"We are using TriFact365 for more then 2 years and are very satisfied. It is a powerful software, very friendly in use and easy to learn. Great helpdesk. TriFact365 is the best product in the market today."
See all reviews in the Exact Online App Center
Trusted by over 20,000 organizations
Get started quickly with Scan and Recognize for Exact Online
Start for free
You can start using TriFact365 immediately after the application.
Link with Exact Online
Within 1 minute you're connected to Exact Online
Process 250 invoices for free
Up to 30 days all functionality for free.
Take out your subscription
Satisfied? Take advantage of the most competitive Scan & Recognize rates.
Experience the easiest scan and recognize
Do you also speed up your Exact accounting?