Plug-in for SnelStart with the easiest Scan & Recognize in Europe
TriFact365 has an official partner connection with SnelStart, enabling SME entrepreneurs and accountants to unlock the easiest Scan and Recognize of Europe.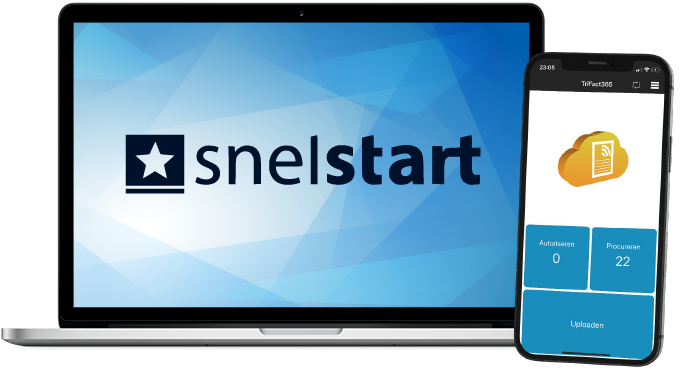 Optimize SnelStart with Scan and Recognize
The coupling between SnelStart and TriFact365 is ready in a few clicks. Automate your online administration within a few minutes with Scan and Recognize of TriFact365.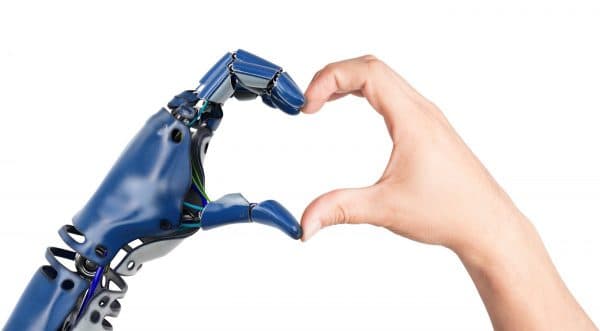 The specialist in Scan & Recognize software also for SnelStart
With TriFact365 Scan & Recognize you process purchase invoices, sales invoices and receipts to SnelStart much faster and more accurately. Work with the most innovative Scan & Recognize software in the Netherlands. This plug-in automates all your booking work in no time.
All documents are easily collected via the smart web application, email and/or mobile app. In addition, our cloud software promotes collaboration between organizations and accountants. TrFact365 is the specialist in self-learning algorithms and presents a booking proposal in seconds.
Industry-leading recognition at line level
Our invoice recognition is accurate and proposes journal entries down to line level. With 1 click you can now enter invoices. The associated PDF is also sent with each entry.
Relationships can also be created with 1 click and easily changed in TriFact365. Of course changes are immediately available in SnelStart.
Did you accidentally add a double invoice? No problem, TriFact365 has an automatic check for duplicate invoices.
Easily link Scan & Recognize with SnelStart
A connection with TriFact365 is easily made. You can get started within minutes. No investment and no extensive implementation required.
Do you need free help during start-up? You can reach us by email and telephone. We also have an extensive knowledge base with lots of information about the coupling between TriFact365 and SnelStart.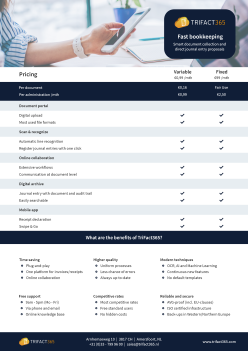 Quickstart invoice processing
With the digital invoice processing of TriFact365 you will save a lot of time over the entire process from A to Z. Invoices are easier to collect with the document portal where you have access to multiple upload channels. All submission users are also FREE in TriFact365. You can add both internal and external users. Furthermore, the workflows for approving invoices are of added value for SnelStart users who also want to authorize or procure the invoices. Workflows are customizable and the setup should not take more than 10 minutes of your time. Invoice processing is really complete with the easiest Scan & Recognize of Europe.
Quickstart digital invoicing
Besides invoices, you can also easily digitalize the delivery, approval and entry of expense claims in your administration. Employees and managers simply approve all receipts with the TriFact365 app. Digital declarations increase the quality and reduce errors so that declaration chaos disappears like snow in the sun.
Collecting declarations actually comes down to mandating digitization at the time expenditures are made. With the TriFact365 App you simply scan all paper receipts and documents to digital format after which they are automatically picked up by an automatic workflow. TriFact365 receives high volumes of claims from SnelStart users on a daily basis.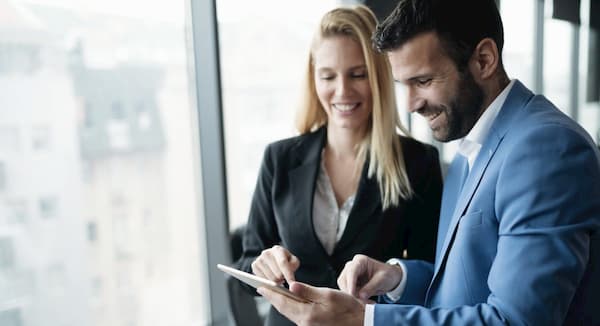 Approve invoices and claims with one click
Managers and budget owners can use TriFact365 to approve or reject invoices with one click. Of course you can also add comments in case you have any. Rejected claims will get a separate status with beep signal for the responsible user.
Journalizing with 1 click in SnelStart
Receive an automatic booking proposal with which you will be able to book invoices and declarations in SnelStart with just 1 click. The beating heart of our cloud software are self-learning algorithms that make sure you receive a booking proposal in a few seconds down to line level. Stop retyping data in journal entries, use the power of the TriFact365 app as an addition to SnelStart.
Benefits of the SnelStart – TriFact365 link
Maximum time saving with the collection of invoices and receipts. Free access for anyone who wants to submit, check and view invoices. Determine which internal or external users you grant access to and which roles they are assigned. Harness the power of collaboration with TriFact365's smart Document Hub. Automate high volume work processes and digitize all accounting documents in a smart way. The TriFact365 sorting robot categorizes documents and determines which workflow starts automatically. Make optional use of authorizing and/or procuring invoices or other documents. Save the most time by scanning and recognizing purchase invoices, sales invoices, receipts and other accounting documents. Harness the power of ready-made posting proposals down to the line level. With 1 click your invoice is now booked in SnelStart, ready for VAT declaration.
Would you like to know more about the advantages of Exact Online? I'm happy to talk to you.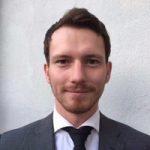 Rick Spek, Sales Consultant TriFact365
Document portal for all your business documents
E-invoices (UBL), XML, PDF, Images, Word and Excel files
FREE submittal users
Digital Declaration with the TriFact365 App
Free App users!
Additional Workflows for SnelStart
Leading Scan & Recognize software
A booking proposal within seconds
Industry leading accuracy up to line level
With 1 click the journal entry in SnelStart!
TriFact365 speeds up your bookings in SnelStart!
Trusted by more than 20,000 companies
Want to experience all the benefits of Scan & Recognize for SnelStart?
Get started with Scan & Recognize for FREE within 1 minute