Invoice processing software
Accelerate your bookkeeping for invoices & expenses with smart invoice processing software.
Uploading documents
Invoices, receipts and other documents can easily be uploaded via mail, web application or mobile app. You can upload multiple invoices at once. TriFact365 automatically splits bulk invoices added by a scanner.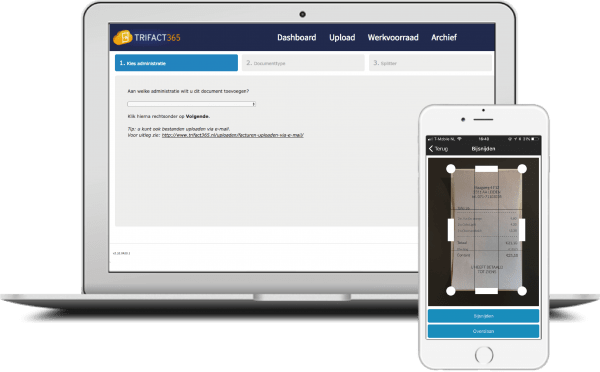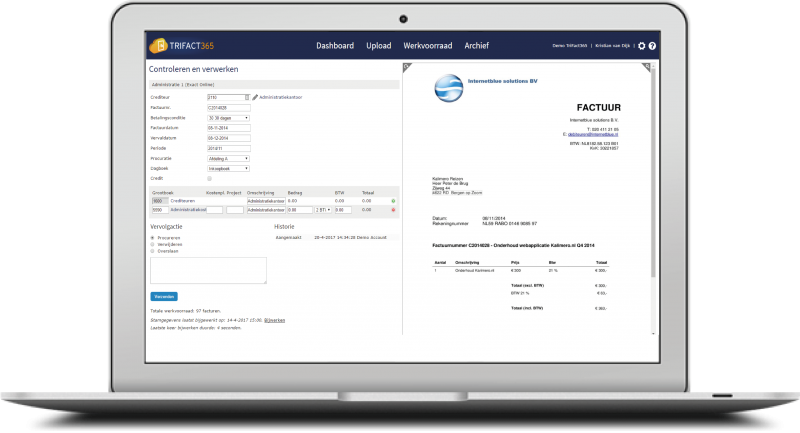 Invoice recognition
Self-learning algoritms will present an automatic booking proposal. All you have to do is a visual review!
When you create a new debtor/creditor, TriFact365 can present an automatic proposal. Invoices can be automatically booked in the correct currency. Costs and revenues can easily be spread over different periods. Invoices can be blocked for payment. After approval in TriFact365, the booking is released for payment.
Approval workflows
Users can check and confirm the booking proposal before TriFact365 archives the booking into your accounting system. You can add multiple users in a workflow (parallel/sequential – required/optional).
Use automatic e-mail reminders to notify the users who need to approve invoices and receipts.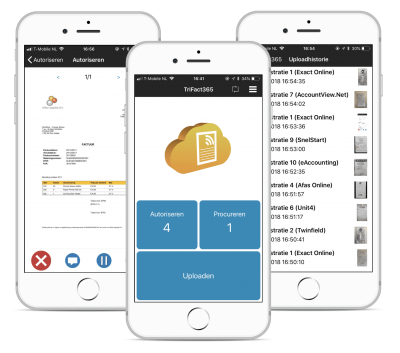 On-the-go with the
TriFact365 App
Upload and approve photos of receipts with a single swipe!
Dashboard
In the digital dashboard you can see the status of all invoices. An up-to-date overview quickly leads you to the administration where action is required. Every user has his own dashboard.
Realtime integrations
TriFact365 has extensive integrations with multiple accounting systems. All of your financial documents will be stored real time in your accounting system!
Segregation of duties
Within TriFact365 you can easily assign rights, roles and administrations to users. You can give an unlimited amount of users free access to your TriFact365 environment.
Split and merge
After uploading the bulk invoices, TriFact365 presents an automatic split-and-merge proposal. You can split and merge invoices easily with our innovative drag-and-drop funcionality!
Archive
TriFact365 allows you to create a complete online archive for all of your financial documents. The online archive is available 24/7. The invoices are stored online for 10 years, in accordance with the strictest European laws.
Audit Trail
Every invoice processing step has an automated audit trail in TriFact365. For each action it is documented which user has pursued the action and when. In that way you are able to retrace the complete audit trail of all invoices that have been processed.
Experience all the benefits from TriFact365
TriFact365 is the best solution for invoice processing software. Start with a 30-day free trail now!