One simple solution for your business to handle all your invoices and receipts
Get your accounting into 6th gear with automated invoice processing, so you have more time for important things.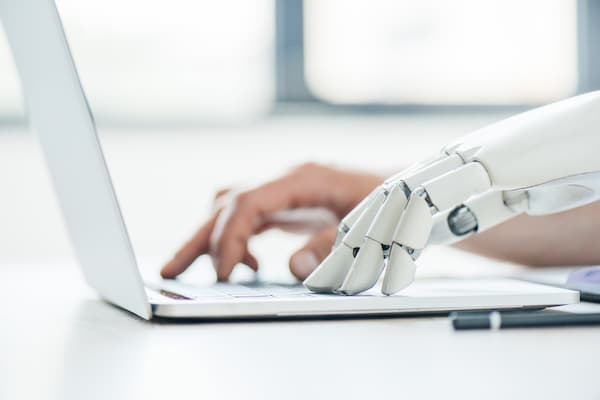 Get started immediately
TriFact365 is easy to use, so no implementation costs!
Best rates
TriFact365 has the best rates in the market.
Innovative
Automatic recognition of invoices and receipts down to line level.
Super fast support
TriFact365 provides free personal support via email, telephone and chat.
Reliable and secure
TriFact365 is GDPR proof and works with ISO certified infrastructure.
---
"We want to be at the forefront of robotic accounting because it creates value in the chain."
Dirk Krol, Customer Experience Krol Wezenberg Accountants
Companies using TriFact365
Collecting Booking Documents
Explore the collection options available to you to get the most out of your document processing.
Web
Browser-based invoice processing on PC, tablet and mobile devices.
App
Scan receipts and approve documents on mobile devices.
Email
Let your suppliers and users submit documents and start workflows automatically.
Automatic invoice recognition
Immediately upon receiving an accounting document, our software starts recognition. Within a few seconds an accounting proposal is ready for you. After a visual check, you can send it to your favorite accounting program with the press of a button. TriFact365 has real-time connections with all the top 10 accounting software.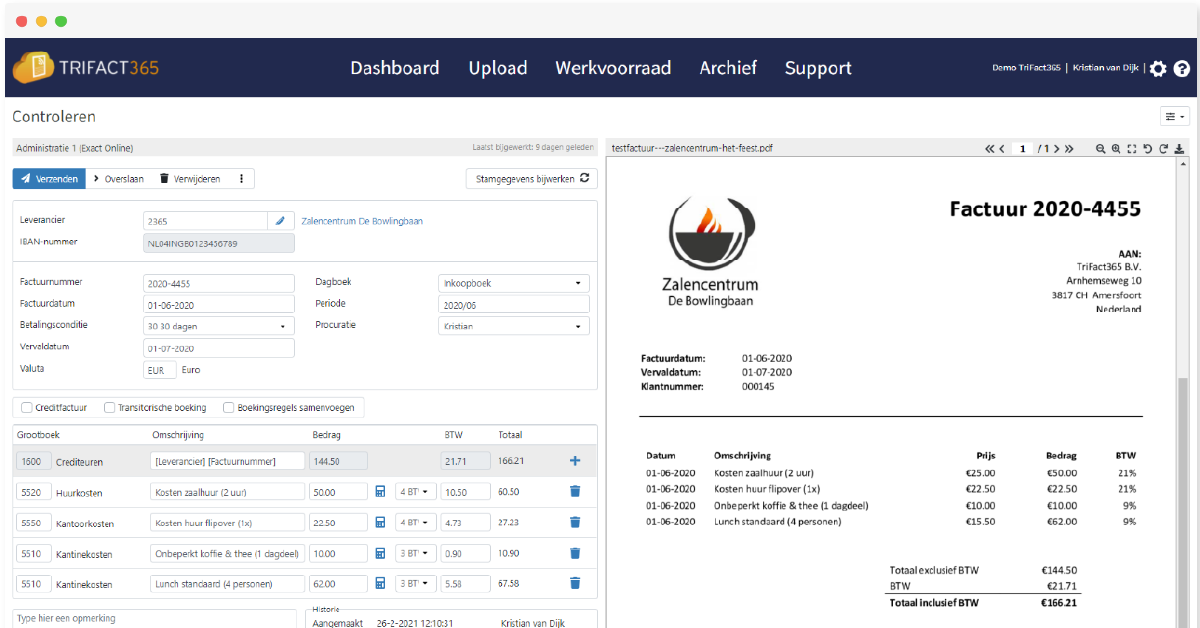 Save time and money
Never lose documents again. Reduce the turnaround time in which invoices are approved. Whether you are a department manager, budget holder or general manager, it does not matter TriFact365 has a ready-made solution for almost all situations.
TriFact365 contains powerful Workflows for authorization and procuration management, as soon as invoices are ready you will receive automatic push notifications.
Frequently used features
Transitional booking. Invoices can be automatically booked in the correct currency and possibly spread over several periods with the option 'Transit booking'.
Create new relationships. TriFact365 also generates an automatic proposal for creating a new debtor or creditor. Only one more push of a button is required.
Foreign currency. You can also easily process foreign invoices, TriFact365 can use automatic revaluation in accounting packages.
Block for payment. You can easily block and unblock invoices for payment. When the procuration workflow is complete, the invoice is released for payment.
Searchable archive. Per entry is recorded: the original PDF, full journal entry including entry number, relationship name, amounts, audit trail and of course any comments.
Free mobile app. Ideal for colleagues who regularly travel and submit expenses claims. Through TriFact365 you can easily photograph receipts and upload and process them in real time.
"In addition to 100% invoice recognition, TriFact365 also provides us with excellent customer service. The questions and wishes of my colleagues are answered quickly and in a pleasant way."
Bas Peelen, Partner at Accountancy firm van den Berghe & Verdegaal
Steps to get started
Request a free account
You can get started within 1 minute after the online application. You can sign up directly for free onboarding.
Link accounting software
After the application, you can set up the link to your accounting software in a few minutes, plug and play.
Process 250 invoices for free
GDuring 30 days you can process up to 250 invoices and have access to all functionalities.
Subscribe
Ready for digital invoice processing via the TriFact365 platform.
Want to experience all the benefits of TriFact365 yourself?