TriFact365 stores all documents and journal entries as long as you are a customer in a clear digital archive. Some accounting software packages do not allow a PDF document to be sent along with a journal entry. Fortunately, you can always consult these in TriFact365's digital archive.

By default, the most recent journal entry based on the Invoice number is shown first in the list. All columns have filter and sort options, in case you are looking for a particular journal entry or a selection of journal entries.
Actions
A number of (bulk) actions are available. These are listed above the table from left to right:
Refresh – Refresh the contents of the table.
Delete – Delete the selected journal entries (and documents) from the Archive. This action cannot be undone.
Table export
In addition, you have the option to export the contents of the table to an Excel file. This can be done via the export button at the top right of the table.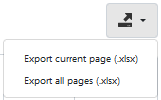 View/download journal entries (and documents)
You can view documents by clicking on the Magnifying Glass at the back of the relevant line. The document including journal entry and history is then displayed.
On the right-hand side of the table, you can use the download icon to download the corresponding document.