Before you start
Check is the Visma eAccounting API is activated. Go to Apps in Visma eAccounting.
Step 1
Go to Settings (Cogwheel) at the top right and click on Links and then click on the Add button.
Step 2
Select Visma eAccounting.
Step 3
Give a recognizable description to the link and click on Next.
Step 4
Click Finish. You will be directed to the webpage of Visma eAccounting. Log on to this page, select the administration(s) and allow the requested permissions for TriFact365. The link is finalised, and you will be redirected to TriFact365.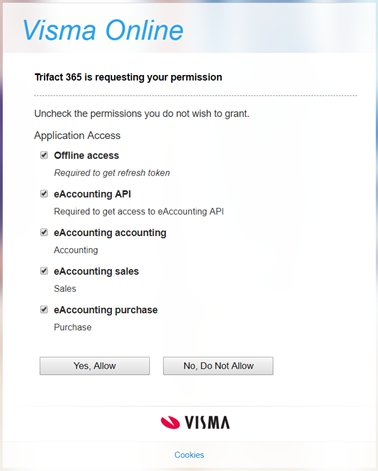 Visma Advisor
Do you use Visma Advisor? Contact Visma eAccounting en let them check the following settings:
Is the integration module activated (between Visma Advisor and Visma Accounting)?
Has the Visma Advisor User access to the Visma eAccounting administration(s)?