Before you start
Add the right Authorisation to the User(s) who need to authorise invoices
Add administration(s) to the User(s) for which they need to authorise. See for more information this link
Step 1
Go to Settings (Cogwheel), click on Authorisation followed by Add.
Step 2
Click on the Pencil next to the Authorisation schedule.
On the left side the Authorisators are mentioned. Clicking the Green plus will add the selected User to the schedule. Only Users with the Authorisation right will be shown in the drop-down menu.
Optional vs. Required + Level
For every User you need to make the decision if authorisation by this User is optional or required. Beside this, you can add Users to different levels so the authorisation will have a hierarchical structure.

Note
Optional is used when multiple Users are added to the same level and only one approval of one of the Users is required.
Administrations
On the right side are the Administrations mentioned. Clicking the Green plus will add the selected administration to the schedule.
Note
The selected and added administration is in use for all Users in the schedule. It is not needed to add the administration(s) to a single User (line).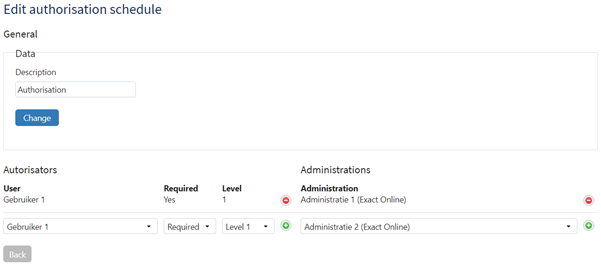 Step 3
When an authorisation schedule is created and an administration has been added, the column Authorisation is checked at Settings (Cogwheel) > Administrations.
From this moment uploaded invoices will be visible at Authorise at My backlog on the Dashboard.
Read more about how to authorise invoices in this link.
Authorise on dashboard
Authorise is only available for Administrators and Users with the right Authorisation.
Authorisation per administration
Authorisation schedules can be set at administration level. It is not possible to set this on User or Invoice level.
Upload and Authorisation rights
If you have the rights Upload and Authorisation as a User, My backlog will show all invoices with the status Authorisation.